Trends in legacy giving: recent statistics
The latest annual Impact Report of the British platform Remember A Charity delivers various statistical data related to the recent evolution of legacy giving.
The proportion of Wills going through probate that includes a charitable legacy has risen from 12.2% to 15.8% over the past decade, with more than 10,000 charities named in Wills annually.
Number of people who claim to have taken action to include a charitable gift in their Will: 17% in 2019, up from 11% in 2010
The percentage of those who are unaware of legacy giving has fallen from 20% in 2010 to 11% in 2019.
In the latest consumer tracking poll of Remember A Charity, 40% of respondents said they would be happy to leave a gift to charity in their Will, up from 35% in 2008.
The latest research in 2019 revealed that 68% of solicitors and Will writers always or sometimes mention legacy giving with clients, up from 58% in 2012. The percentage of those who never mention charitable gifts in Wills has also more than halved from 16% in 2012 to only 7% in 2019.
Legacy income now exceeds £3 billion – the largest ever reported.
The Remember a Charity website refers to additional data from another study, carried out by nfpSynergy:
17% of charity supporters aged 40 and over have included a charity in their Will, and a further 10% are preparing to do so,
9% of donors actively reject the concept of leaving a legacy, down from 12% in 2010,
the number of people unaware of legacy giving has fallen from 20% in 2010 to 11% in 2019.
Impact of the Remember A Charity campaign in 2019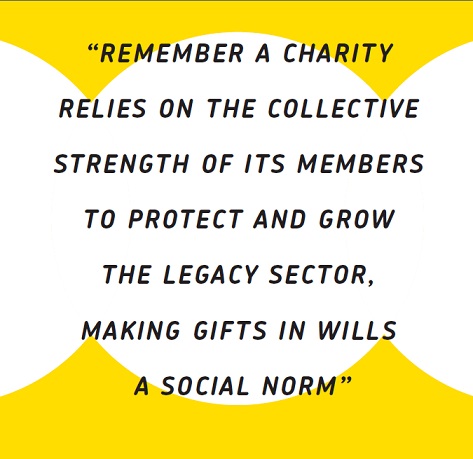 Main focus
'Our focus remains to address the disconnect between 55+ ABC1s who are aware of legacy giving and those actively considering it.'
10th Remember A Charity Week
The Remember A Charity Week reached millions of the Will-writing public on Facebook, thanks to a 70s-inspired series of films that used nostalgic humour.
It achieved over 4 million impressions, with 32,000 new visitors to the Remember A Charity website which features only the members of the national coalition.
The Week was once again supported by former Strictly head judge Len Goodman who helped generate more than 150 pieces of national press coverage, including interviews with Phil and Holly on This Morning, on BBC radio stations, and widespread regional newspaper coverage.
Influencing Key Decision Makers
Charitable gifts in Wills are currently exempt from IHT taxation (charged at 40%) and those who donate over 10% of their estate to charity benefit from a discounted rate of 36% across the remaining value of their estate.
The final report from the OTS (Office of Tax Simplification) included references to the ongoing work of Remember A Charity with the legal sector, backing the recommendation of the national platform to retain the current IHT incentive.
Additional detailed information related to the various support services offered by Remember A Charity to its members is available on their website.
Source
Remember A Charity: Impact Report 2019
Sur ce thème - Over dit onderwerp